Download Your Free Coronavirus News Dataset
Data has been crucial in the operation against COVID-19. It is being utilized across health, government, and finance sectors to track its spread, predict its impact, and help everybody stay informed.
AYLIEN is publishing a COVID-19 dataset that can be used to analyze global news throughout the outbreak.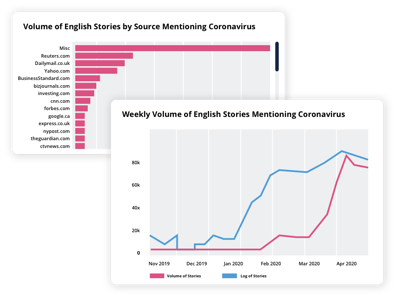 Dataset details:
Size: 7.6 GB (1,673,353 news articles)
Topic and themes: Coronavirus related news content
Language: English content only
Timeframe: Nov 2019 – July 2020
Sources: ~440 global sources
Fill out your contact details and we'll email you a link to download the dataset.